THE GARDEN OF ALLAH was a mansion estate turned bungalow village hotel at 8152 Sunset Boulevard. Built and ruled by controversial (and openly bisexual) silent screen siren Allah Nazimova, some of the villa's illustrious and notorious guests and residents included: F. Scott Fitzgerald, Robert Benchley, Ernest Hemmingway, Gloria Stuart, The Marx Brothers, Buster Keaton, Dorothy Parker, Errol Flynn, Greta Garbo, John Barrymore, Clara Bow, Humphrey Bogart, Lauren Bacall, Gloria Swanson, Charles Laughton, Elsa Lanchester, Ernst Lubitsch, Ronald Reagan, Ava Gardner, Joe E. Lewis, Artie Shaw, Marlene Dietrich, George Kaufman, Laurence Olivier, Sergei Rachmaninoff, Alexander Woollcott, Orson Welles, Somerset Maugham, Jascha Heifetz, Ginger Rogers and Katherine Hepburn — to name a few!
Refuge for talent.
A den of iniquity.
Gaud's little acre.
"I'll be damned if I'll believe anyone lives in a place called 'The Garden of Allah,'" wrote Thomas Wolfe, in a letter to F. Scott Fitzgerald, dated July 26, 1937.
During the filming of the 1939 remake of "The Hunchback of Notre Dame," Charles Laughton would return home to The Garden for lunch, still in character as Quasimodo, and float in the pool on his back with his face aimed skyward, to avoid ruining his complex makeup.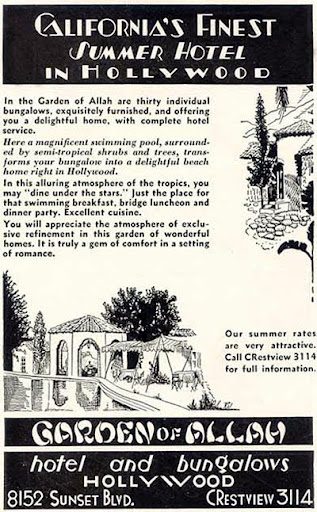 Following its heyday, The Garden of Allah endured years of neglect. In summer, 1959, it was torn down to make way for progress. The song "Big Yellow Taxi," by Joni Mitchell, mourns the incredible landmark's passing in the famous lyrics, "They paved Paradise and put up a parking lot."